Thank You! Your interest for this book has now been recorded. Be sure to check your email at 6pm EST later today for the pre-order link.
---
FREE BONUS GIFT WITH FIRST 10 ORDERS
WHAT IS IT –  Be one of the first 10 orders today at 6pm EST for the Remarqued signed limited edition of REVIVAL  and as a free bonus gift, we will also send you a First Edition inscribed copy of FULL THROTTLE by Joe Hill when it is released this October .
This will be an inscribed and personalized book to you by Joe Hill and not signed on a publisher tipped in page. Joe Hill will personalize the book to you directly onto the title page of the book! The book will be Very Fine throughout and the dust-jacket will be protected in a brand new archival acid-free Mylar sleeve.
---
How to get the FREE bonus gift –
 You must be one of the first 10 orders today at 6pm EST when we go  live with the pre-order link.  At the checkout, in the order comments, please tell us to whom Joe Hill should personalize the book to. You can also send us an email to
info@veryfinebooks.com
  (in subject line write JOE HILL BONUS BOOK ) or call (978) 270 – 2096.
---
ABOUT REVIVAL
ORIGINAL ANNOUNCEMENT – We are very excited to announce that this Thursday, June 20th at 6pm will be the official VFB pre-order launch of the brand new REVIVAL signed limited deluxe edition by the publisher LetterPress Publications, the new company by Brian Freeman.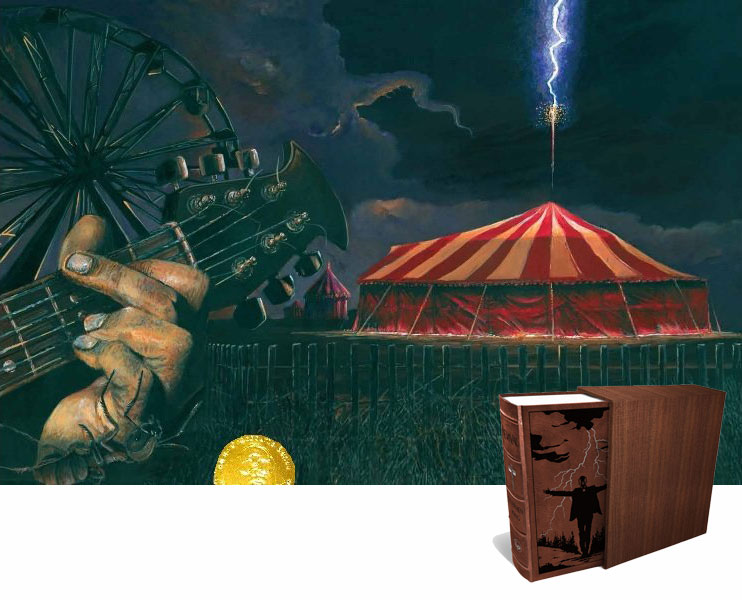 As you know, this is going to be one of those hot in-demand Stephen King limited edition books so be sure to pre-order this before it is sold out. Even though it's not signed by him, it is signed by François Vaillancourt, Josh Boone, Vincent Chong, and Bev Vincent.
A SPECIAL EDITION THAT WILL BE AVAILABLE IN TWO STATES
Wee are offering this book in two states:
1. The regular signed limited edition
2. The regular signed limited edition with an artistic remarque (first 10 orders also receive a Free signed copy of Full Throttle by Joe Hill).
About the remarqued version
The super talented Stephen King artist , Glenn Chadbourne, has graciously agreed to remarque a small number of these new REVIVAL books for us.
This will be a great chance to own an original piece of work by the artist. This remarqued version is unique because it will be personally signed by the artist Glenn Chadbourne and will include an original artistic remarque. The remarque adds a special value to your book because it is a one-of-a-kind original. The detailed finished color drawing ties in with the subject matter of the edition. It is personally and individually drawn for you by Glenn Chadbourne. Remarquing is only done on a select few books of each edition, thus making them highly collectible. Besides enhancing the appearance and collectibility of your edition, it gives you the unique opportunity to own an original piece of work by the artist.
About REVIVAL
LetterPress Publications. December 2019. Stephen King "Revival" The special deluxe slipcased limited edition. Illustrated by François Vaillancourt (16 Full-Color Interiors!) and Vincent Chong (Bonus Materials) . 500 pages. This item is currently Out of Print from the publisher and will not be available for purchase again. Very Fine without any flaws in slipcase the same. Sealed.
From the publisher:
As the debut title from Brian James Freeman's new LetterPress Publications, this volume is going to be a must-have for every Stephen King collection, but to make it a really extraordinary launch for his new press, Brian has decided to offer Revival: The Deluxe Special Edition as a "Preorder Only Limited Edition."
That means you, the collectors, get to set the print run! Reservations will only be accepted from May 15 until May 31 — after that, the print run is set and the book is guaranteed to be OUT OF PRINT pre-publication, so it will never show up heavily discounted or in Grab Bags from the publisher, etc.
No additional copies will be offered for sale and this could easily have the lowest print run of this sort of Stephen King collector's edition in many, many years! Please place your order now to get in on the ground floor of a very special new small press publisher!
About the Novel:
"I can't bear to believe his presence in my life had anything to do with fate. It would mean that all these terrible things—these horrors—were meant to happen. If that is so, then there is no such thing as light, and our belief in it is a foolish illusion. If that is so, we live in darkness like animals in a burrow, or ants deep in their hill. And not alone."
Revival by Stephen King is a dark and electrifying novel about addiction, fanaticism, and what might exist on the other side of life. This rich and disturbing tale spans five decades on its way to the most terrifying conclusion Stephen King has ever written. It's a masterpiece from King, in the great American tradition of Frank Norris, Nathaniel Hawthorne, and Edgar Allan Poe.
Special Bonus Materials:
• Sixteen full-color illustrations by François Vaillancourt, including three fold-out illustrations measuring 14 inches by 10 inches
• An introduction by Josh Boone, writer and director of the forthcoming feature film adaptation
• Exclusive artwork created by Vincent Chong for the film development process
• "A Nasty, Dark Piece of Work" by Bev Vincent: an overview of Stephen King's writing of the novel
• "Stephen King: The Rolling Stone Interview" — an epic twenty page interview with Stephen King originally published on Halloween 2014 by Rolling Stone magazine in celebration of the novel's publication
Special Production Features:
• Deluxe oversized design (7 inches X 10 inches) featuring two color interior printing
• Printed on a heavy interior specialty acid-free paper stock that is much thicker than the paper in a normal trade edition
• Featuring hot foil stamping and "blind" heat burnishing on the front cover and spine
• Smyth sewn to create a more durable binding
• Includes genuine crafted spine hubs in the spine
• Deluxe binding with colored head and tail bands
• High-quality endpapers
• A sewn-in satin ribbon page marker
• Full-color signature sheet
• Custom-made slipcase wrapped with a woven cloth and stamped with hot foil on the spine
• Extremely collectible print run that will be a tiny fraction of the print run of the original trade hardcover edition from Scribner
Note: all dust-jackets are fitted with a brand new archival acid-free Mylar sleeve where appropriate.
Just a sample of some of the art-work included in this special edition
Forthcoming release – December 2019 .
---
---
Related Items.
Are you a Stephen King collector? Below you will find some of the most popular and highly sought after signed and limited editions: